OVERVIEW

The premier collection of authentic vintage synthesizer and drum machine sounds just got better! Vintage Vault now includes 65 UVI instruments, 111 drum machines, 500,000 samples and over 10,000 hand-crafted presets all created using the original hardware, 250 machines overall.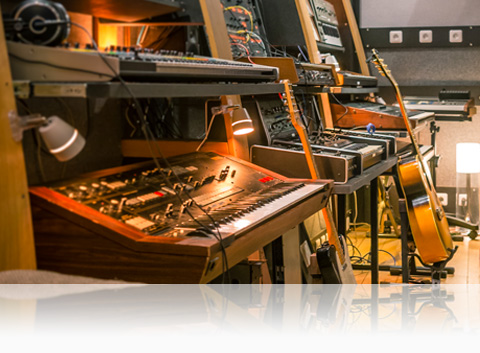 Explore your own personal dream studio packed with over 5 decades of synthesizers and drum machines from analog to digital, classic to obscure, all recorded in professional studios through class-A signal chains just like they were for countless hit records.
Now you can experience the raw grit, character and texture of dozens of real hardware instruments with all the simplicity of software. Vintage Vault is easy to use, completely portable, instantly recallable, and never out of sync or out of tune (unless you want it to be!) – it's all the sounds you want, when and wherever you need them.
N-DEPTH
Unlimited Inspiration
All of those polyphonic analog synths from the '80s? Check. Hundred-thousand dollar digital workstations? Check. Ultra-rare prototypes and string synths from the '70s? Check. What about all of those classic drum machines? And the obscure ones we never heard of? Check, and check. Vintage Vault brings together 30 UVI products representing some of the most coveted and sought-after electronic instruments ever made. It represents decades of man-hours in development and is a testament to our passion for synths and our dedication to quality. Quickly browse through a massive catalog of synths and drum machines, layer them, and effortlessly sculpt your sounds to perfectly fit your mix. Whether you're looking for an iconic sound from your favorite record or film score, or you simply want access to these rare machines, the raw sound of your favorite hardware is never more than a few keystrokes away.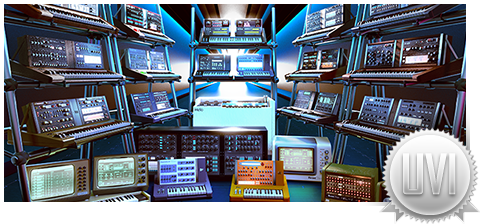 Real Hardware, No Imitations
It sounds like hardware because it is, it's as simple as that. All Vintage Vault instruments start with the real hardware. Expertly programmed patches, extensive sampling through the highest-quality equipment, innovative scripting and a meticulous attention to detail – take all of that and combine it with the award-winning UVI Engine™ and you've got the start of what makes UVI instruments sound like no others. Our sample-based philosophy means the genuine character and sound of your favorite vintage hardware is never out of reach. If you want real hardware tone, look no further.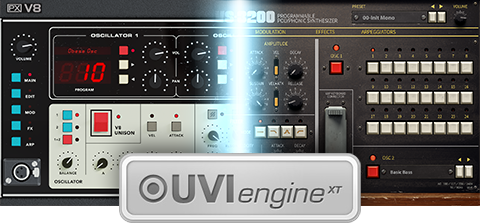 Optimized Workflow
Vintage Vault instruments all share a common structure, meaning that regardless of whether it's a simple analog monosynth or a complex FM workstation, once you become familiar with a single instrument you can easily use them all. No more time lost digging through tiny menu screens or ambiguous user manuals. No more being stuck with a single instrument because it's what you know best. Vintage Vault breaks down the technical barriers and streamlines your workflow so you can focus on what's most important – staying inspired and making music.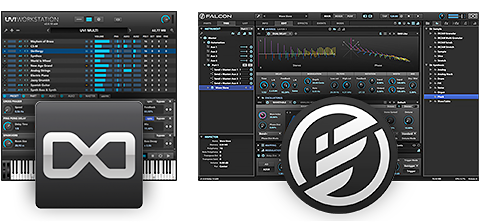 Infinitely Adaptable
Vintage Vault instruments can be as nimble or deep as you want them to be. Need sounds fast? Launch your instruments in the free UVI Workstation, quickly browse, layer and mix your sounds all within a focused and ergonomic UI. Want to explore the outer-limits of sound design? Step up to Falcon for the ultimate no-compromise experience, unlimited audio and MIDI effects, sample editing, scripting and more. Regardless of which you choose you'll experience the same incredible sound quality thanks to the UVI Engine's fast and flexible architecture.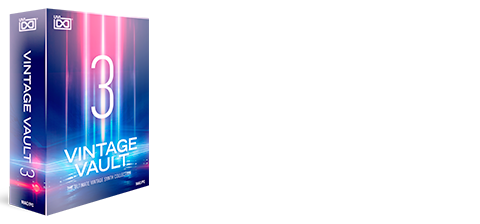 Incredible Value
Everyone knows that vintage gear is expensive to buy, expensive to maintain and takes up valuable real estate. With each passing year that goes by these instruments become more rare and more costly. Vintage Vault gives you the sound of hardware at a fraction of the cost, without the headaches and hassle of moving, organizing or repairing a large collection of synthesizers. On top of that, the Vintage Vault bundle gives you a massive savings over purchasing the UVI instruments individually, and if you've purchased from us before you could be eligible for even greater savings.
Explore the history of synthesis voiced by the machines that made it, from analog to digital and everywhere in-between – unlock your inspiration with the authentic hardware sounds of Vintage Vault.
SPECS
WHAT YOU GET
| | |
| --- | --- |
| Size: | 218 GB |
| Content: | 65 instruments, 11,587 Presets, 641,484 Samples |
| Sample Resolution: | 44.1 kHz. Recording at 88.2 kHz |
| License: | 3 activations per license on any combination of machines or iLok dongles |
SYSTEM REQUIREMENTS
Runs in UVI Workstation version 3.0.8+, and Falcon version 2.0.3+
iLok account (free, dongle not required)
Internet connection for the license activation
Supported Operating Systems:
– Mac OS X 10.9 Mavericks to macOS 10.15 Catalina (64-bit)
– Windows 8 to Windows 10 (64-bit)
220 GB of disk space
Hard Drive: 7,200 rpm recommended or Solid State Drive (SSD)
4GB RAM (8 GB+ highly recommended for large UVI Soundbanks)
COMPATIBILITY
| | |
| --- | --- |
| Supported Formats: | Audio Unit, AAX, VST, Standalone |