MULTI-INSTRUMENT AND SEQUENCE DESIGNER
4-layer morphable instrument with advanced arpeggiators, MIDI FX, and more
Artful and dynamic preset library offers instant inspiration across many styles
Deep-sampling from acoustic, electric, and electronic instruments
A next-step library from UVI, Quadra is a powerful 4-part multi-instrument and sequence designer, ideal for the creation of dynamic, rhythmic, and evolving sequences based on muted and harmonic sounds. Quadra provides a curated instrument selection, deep factory library, focused and intuitive workflow, expressive performance controls, and cinematic sound quality.
Quadra is a versatile instrument, capable of a wide range of sounds and uses from standard fare instrumentation to evolving, complex, and adaptive progressions and harmonizations that can be morphed and performed in numerous ways to suit the needs of your production.
With a masterful selection of hundreds of professionally designed presets, Quadra offers instant inspiration. From classical stringed arpeggios to harmonizing rhythm guitars, grooving bass and synth combos to dark and brooding cinematic soundbeds, all are fully-editable and make equally great starting points for your own design.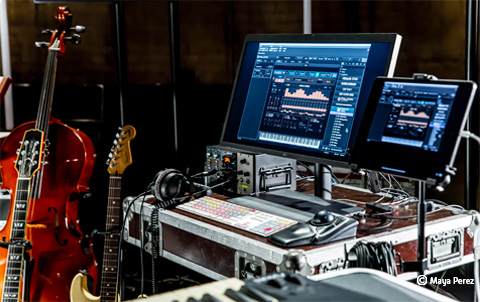 SPECS
WHAT YOU GET
| | |
| --- | --- |
| Size: | 5.6 GB (FLAC lossless encoding, was 18.9 GB in WAV) |
| Content: | 335 Presets (25 Layer Presets, 150 Arpeggiator Presets), 150 Layers, and 29,043 Samples |
| Sample Resolution: | 44.1 kHz. Recording at 88.2 kHz |
| License: | 3 activations per license on any combination of machines or iLok dongles |
SYSTEM REQUIREMENTS
Runs in UVI Workstation version 3.0.17+, and Falcon version 2.1.4+
iLok account (free, dongle not required)
Internet connection for the license activation
Supported Operating Systems:
– Mac OS X 10.9 Mavericks to macOS 10.15 Catalina (64-bit)
– Windows 8 to Windows 10 (64-bit)
6 GB of disk space
Hard Drive: 7,200 rpm recommended or Solid State Drive (SSD)
4GB RAM (8 GB+ highly recommended for large UVI Soundbanks)
COMPATIBILITY
| | |
| --- | --- |
| Supported Formats: | Audio Unit, AAX, VST, Standalone |