Asteroid is a creative tool for developing powerful, rhythmic and evolving sequences, percussions, transitions, effects and more. Load up 7 sample layers with an incredible collection of sounds from a wide range of sources including orchestral percussion, effects, electronic and acoustic drums, foley, and found sounds. A deeply-configurable editor allows you to sculpt each sound, mix spatially, add multi-fx, master eq and dynamics, and create rich and evolving sequenced sounds with 128 steps of velocity, pan, pitch, decay, reverb, and delay, discretely per-track.
With a fast and intuitive workflow, deep sound library, and a huge selection of inspiring presets, Asteroid is a rewarding and powerful tool for composers, sound designers and musicians alike.
IN-DEPTH
Workflow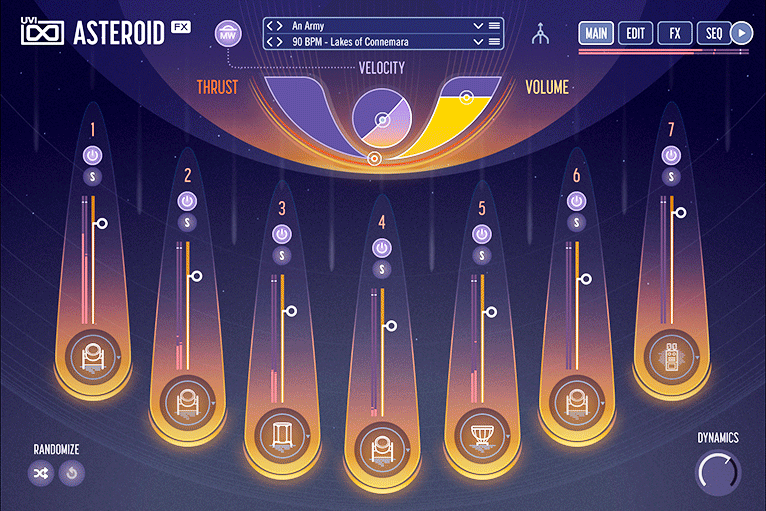 Asteroid has been designed to give you everything you need to make complex, layered, and incredible sounding rhythmic percussions, sequences, and effects in an intuitive and easy to use interface. Browse from hundreds of included kits and sequenced presets and quickly adjust to taste, or start from scratch and explore an endless supply of configurations with the randomizer.
Adjust every detail of your sound on the Edit page, from sample selection, volume and effect sends, to spatial mixing, transient controls, eq, multi-fx and more. Play each of the 7-layers discretely or create massive sequenced phrases with a full selection of bus effects to master your sound, all without ever leaving the interface.
Structure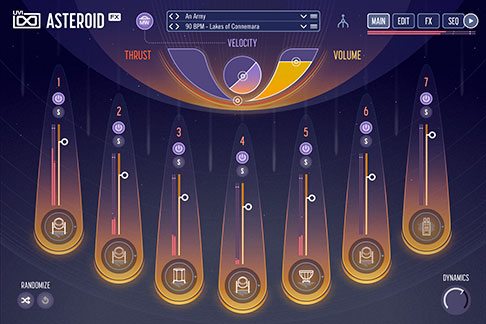 At a high-level Asteroid is a 7-track sample player with a massively powerful integrated sequencer and deeply-customizable effects. Tracks can be loaded from a specially curated library of sounds designed for use within Asteroid, with global or per-track sample randomizers for instant inspiration. Choose from a stereo mix or multi-out (each track to a separate out for further processing), quickly dial-in a massive sound with Thrust, and use the modwheel-mapped Velocity for continuous control over the dynamics of your sequence.

Each track offers control over volume, spatial panning (left-to-right and near-to-far), width, bypass, mute, solo and effect sends for reverb and delay. Select a track and you'll find everything you need to precisely sculpt (or radically transform) your sound in the edit tray, including discrete transient shaper (with reverse mode), +/- 48-semitone pitch control, 4-voice unison, eq with air and sub bands, a multi-fx unit with drive, bitcrusher, frequency shifter, phaser, and flanger, and a repeater.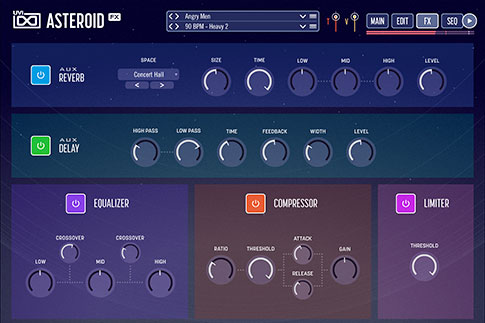 Once you've configured your 7 tracks, it's time to master your overall sound using Asteroid's bus effects. With studio-grade IR-based reverb, digital delay, 3-band EQ with sweepable crossovers, compressor, and limiter, you have full creative control over environment, range, dynamics, and impact of your sound. Place your sound in the mix with EQ, glue your elements together with a bit of reverb and compression, or crank the limiter to epic, you'll find everything you need without leaving the UI.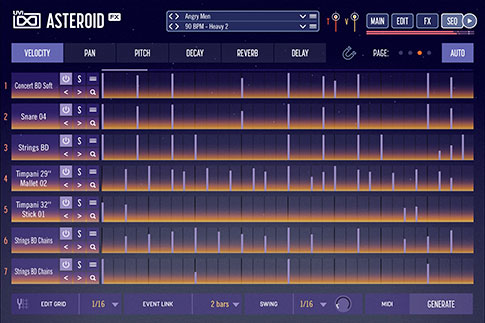 Rhythm and motion can be added to your sounds by way of the integrated sequencer page. Utilize 128 steps each for velocity, pan, pitch, decay, reverb, and delay to create rich and sophisticated sounds that go well beyond sample layering – into spaces typically reserved for complex parameter automation in a DAW. All of that movement can easily drawn in and preserved as a sequencer preset. Mix and match sequencer presets with other sound configurations, share them with collaborators, or save them for future use.
Sound, Designed

The sound library of Asteroid has been meticulously recorded and curated to provide a wealth of inspiring and useful material for years of sound design. From exclusive field recordings, foley, synthscapes and textures, to effects, electronic and acoustic drums, orchestral elements and more.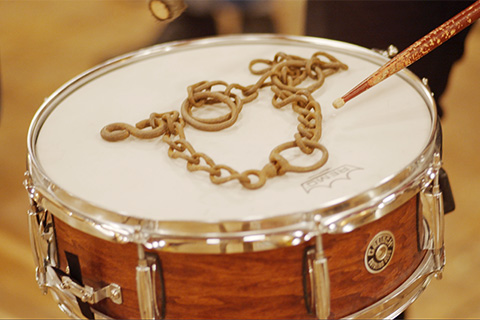 A massive selection of acoustic and electronic drums, and orchestral percussion sounds are included, paired with the integrated sequencer make Asteroid an immensely powerful rhythm and drum machine in its own right. Create nuanced rhythmic phrases, accentuated builds, or create massive layered hits with ease.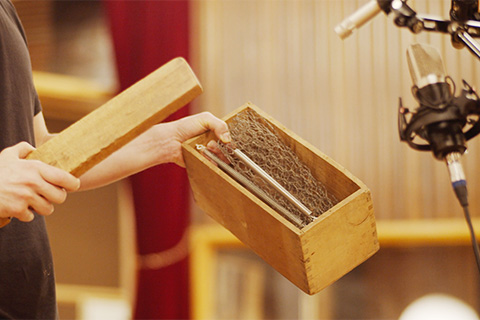 New field recordings and foley were captured to provide organic elements and timbre diversity, allowing for the creation of rich and highly-detailed sounds. From human thigh slaps to car hood clanks, handpans to swords, rubber gloves to rocks in a cave, you'll find hundreds of inspiring sounds with exacting presence and clarity.
Deep, easy to use, massively editable, and absolutely crammed with professionally designed sounds and presets, Asteroid delivers an endless source of sound design inspiration, from nuanced transitions to epic cinematic percussion, drums, and effects.
SPECS
WHAT YOU GET
| | |
| --- | --- |
| Size: | 7,08 GB (FLAC lossless encoding, was 32,87 GB in WAV) |
| Content: | 276 presets, 1 033 instruments, 38 908 samples |
| Sample Resolution: | 48 kHz. Recording at 96 kHz |
| License: | 3 activations per license on any combination of machines or iLok dongles |
SYSTEM REQUIREMENTS
Runs in UVI Workstation version 3.0.24+, and Falcon version 2.1.7+
iLok account (free, dongle not required)
Internet connection for the license activation
Supported Operating Systems:
– Mac OS X 10.9 Mavericks to macOS 10.15 Catalina (64-bit)
– Windows 8 to Windows 10 (64-bit)
8 GB of disk space
Hard Drive: 7,200 rpm recommended or Solid State Drive (SSD)
4GB RAM (8 GB+ highly recommended for large UVI Soundbanks)
COMPATIBILITY
| | |
| --- | --- |
| Supported Formats: | Audio Unit, AAX, VST, Standalone |
| Tested and Certified in: | Digital Performer 8+, Pro Tools 11+, Logic Pro X+, Cubase 7+, Nuendo 6+, Ableton Live 8+, Studio One 2+, Garage Band 6+, Maschine 1+, Tracktion 4+, Vienna Ensemble Pro 5+, Reaper 4+, Sonar X3+, MainStage 3, MuLab 5.5+, FL Studio, Bitwig 1+, Reason 9.5+ |